Introducing Vintage Ski World's NEW Sale Page! Everything is always 15% to 25% Off!
Enjoy shopping this Sale Page often, as we will be continuously changing what vintage products we select to place on Sale.
In celebration we'd like to feature the initial Vintage Ski Posters we used to launch our business as Vintage Ski World, LLC in 2002. Additionally to give you a variety in shopping, we also put a 25% Off SALE on some of our vintage Black and White Art Posters, with the Ray Atkeson Vintage Poster Collection.
Alta Ski Poster 1941 Dick Durrance Ski School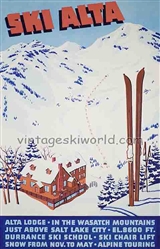 Our Alta poster is a classic!  In the later 1930s, a group of Salt Lake City skiers and businessmen began to look at Alta as a site for a ski resort. George Watson donated 1800 acres of land to the US forest service so Alta could be built. The first chairlift opened in 1938, with 2630 vertical feet. The lift cost .15 cents per ride.
Alta boasts the best powder on the planet, and is one of North America's most historic ski areas.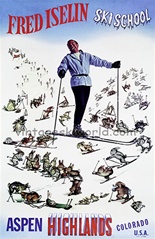 Aspen Highlands Fred Iselin Ski Poster
Fred Iselin Ski School, at Aspen Highlands Colorado poster is from 1966. The artist is Garth Williams. Fred was one of the early instructors on Aspen Mt. in the 1940's and later co-directed the Aspen Ski School in the 50's with Friedl Pfeifer.  The ski bunnies depict many of the families and children of Aspen.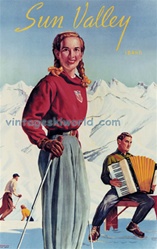 Sun Valley Olympian Ski Poster
This Sun Valley Ski Poster is from 1948. The artist, Shepler was honoring Gretchen Fraser, winner of America's first Gold Medal in Olympic Alpine skiing! Sun Valley had the first single chair lift in North America. This ski resort was very popular with the Hollywood crowd. The accordion player Andy Brachli represents a tradition that is still present around Sun Valley; esp. at the historic Roundhouse restaurant which first opened in 1939.  It is perched at 7,700 ft. on Bald Mountain which makes it a great place to stop skiing and eat a great lunch.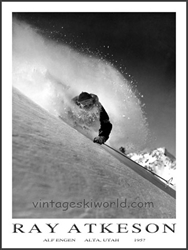 Atkeson Ski Poster of Alf Engen Skiing Powder
This stunning poster by famed photographer Ray Atkeson celebrates pioneer Utah powder skier Alf Engen.
With a terrific eye for composition and beauty rendered in the gray tones of black-and-white fine art printing, he captured sublime photos primarily throughout the Northwest United States. Atkeson received many honors for his work, including Oregon's Photographer Laureate and induction into the Photographic Hall of Fame.
Atkeson Ski Poster of Wildcat Alta
This beautiful poster by Ray Atkeson celebrates Wildcat ski run at Alta, Utah in 1957. Naturally the image highlights Utah's claim that it has "The Greatest Snow on Earth!" Our posters are an affordable way to enjoy Atkeson's amazing images.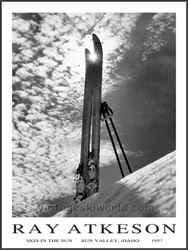 Atkeson Ski Poster of Skis in the Sun
Classic poster by photographer Ray Atkeson with the silhouette of wooden skis and ski poles in the sun with interesting clouds.
Atkeson received many honors for his work, including Oregon's Photographer Laureate and induction into the Photographic Hall of Fame.
LET US KNOW – What Products would you like to see us put on Sale?
Leave a comment!