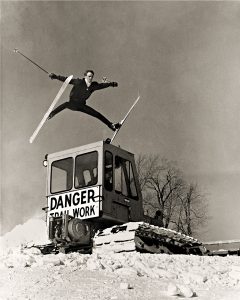 The infamous snowcat; hard-working mountain machines that make those bluebird on-piste days at your favorite resort SO good. They're just about as iconic in mountain culture as Ski Patrol, Saint Bernards and après-ski happy hour. And just like all iconic things, they too have a deep and fascinating history!
A snowcat is simply a fully-tracked, truck size motor vehicle with an enclosed cab that's designed to move over snow. Over the years, many custom and manufactured snowcats have been crafted for snow travel and trail grooming. Larger cats, or snow groomers, are also used extensively by most resorts to maintain in-bounds ski terrain and mountain access.
The story of the snowcat dates all the way back to the ill-fated 1910 Terra Nova Expedition to the Antarctic, led by British explorer Robert Scott. In their Antarctic explorations, and their quest to reach the geographic South Pole, Scott's team found need for a tracked vehicle that could haul gear and equipment across the Great Ice Barrier (now called the Ross Ice Shelf). And so, the predecessor to modern cats was born.
The snowcat has gone through countless designs since its inception in the early 1900s. The best known and longest-standing commercial manufacturer has been Tucker Sno-Cat Corp out of Medford, OR, which trademarked the Sno-Cat brand back in 1946. A few decades later, other manufactures like Thiokol/LMC, Bombardier and Aktiv were also cracking the snowcat market. Both Tucker and LMC models remain popular today as resort groomers and privately-owned cats.
Custom snowcats are often made for easier travel in regions with high annual snowfall, and these designs can be quite creative! Have you or anyone you know ever built one? If so, we'd love to see your photos!
To learn more about snowcats and their history, explore the sources below:
Sources:
1. https://en.wikipedia.org/wiki/Snowcats
2. https://en.wikipedia.org/wiki/Terra_Nova_Expedition
3. https://en.wikipedia.org/wiki/Ross_Ice_Shelf