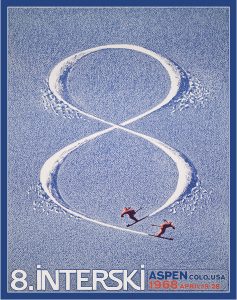 We celebrate the 50th Anniversary of Interski 1968 Aspen, a truly memorable event in the history of American snowsports. This 1968 gathering in the heart of Colorado's Roaring Fork Valley was the eighth International Ski Instructors Congress, the world's largest gathering of professional ski instructors. To this day, it is the only Interski to have been held in the US.
Tonight April 7, 2018, the PSIA-AASI will host a special reception at the Limelight Hotel in Aspen, CO to honor the 50th Anniversary of the 1968 Interski event and the members of the PSIA team that served as the US delegation to that special congress. This will be a fun opportunity to celebrate and share stories with some of the best instructors in the world, as well as a deep network of snowsports professionals. Attendees can look forward to connecting with fellow PSIA-AASI members and deepening their ties to skiing education history.
For ten days, the best ski instructors from across the globe joined in Aspen, Colorado to discuss diverse teaching perspectives and learn about techniques from each country's unique methodology. The US was proudly represented at the 1968 event by a talented delegation of 24 professional instructors. These skilled men and women shared America's distinct teaching style with this International Congress of their peers; continuing the Interski tradition of pushing development and innovation in the world of ski education.
Begun in Zurs, Austria in 1951, Interski's mission is as relevant now as it was in the early days. Now held every four years, the event still champions its long-standing goal of bringing together the world's best professional instructors and outdoor industry leaders to ensure ski education continues to evolve in stride with today's dynamic snowsport disciplines.
As always, Interski takes a bright and confident look at the future of snowsports across the world through networking and shared passion. The next International Congress will be hosted in Pamporovo, Bulgaria from March 17-23, 2019.