Remember the first sexy Lange Girl poster from 1970, called Soft Inside?  It was at the beginning of a long series of memorable Lange Girl posters, which came out every season.
What baby boomer skier doesn't remember the Soft Inside poster hanging in the local ski shop?  That was before they had to be taken down, due to the threats of sexual harassment law suits, according to info from a ski shop insurance agent, Jake Hoeschler.  Fortunately, Skiing Magazine, and other ski related magazines, sold this poster to skiers for $1 in the early 70's.  These of course got hung in dorm rooms, garages, and basements.
Now let's be honest –Soft Inside?  The Lange ski boots were anything but Soft Inside!  They hurt like hell!  It's no wonder the marketing team pared a bold face lie with a gorgeous model!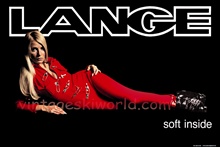 Because these new plastic ski boots were so cool and high tech, everyone put up with the pain. Including saps like me!
Remember the famous "Lange Bang"?  Everyone who wore these can remember bruising or 'banging' their shins with the hard Lange liners.  'After ski boots' were never so popular!  Personally I wonder why Bob Lange wasn't sued for false advertising.  Maybe it's because all of us were so seduced by the Lange Girls, plus we hoped to be the 'coolest' skiers on the slopes with our new shinny plastic boots.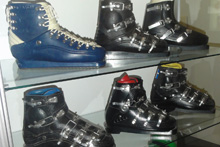 Additionally I must admit that they really helped the skier have a whole new advantage in 'edge control'.  Therefore, they were used by the famous skiers like Jean Claude Killy.  So all of us as young skiers just acknowledged that it was worth it to suck up the pain, because we skied way better than our peers who were still in the leather boots.
I think the painfully hard Lange boots were that the reason for the creation of the thick padded socks, with inch of foam around the shin area and top of the boots.  I was too cool to wear those socks, but my mom had them and they are still in my collection.
I had the Lange Comp with the yellow liner, which I thought was the coolest color, especially since I had my black Head skis with the yellow bottoms.  What color were your liners?  And I'd love to hear anything you have to say about these boots and posters.