This week we'd like to feature one of our favorite artists and photographers Ray Atkeson. Ray Atkeson was taking pictures and climbing mountains as early as 1933. With a terrific eye for composition and beauty rendered in the gray tones of black-and-white fine art printing, he captured sublime photos primarily throughout the Northwest United States. Atkeson received many honors for his work, including Oregon's Photographer Laureate and induction into the Photographic Hall of Fame. Our posters are an affordable way to enjoy Atkeson's amazing work.
Check out our selection of Ray Atkeson's posters below, by clicking on the poster, or visit our vintage ski posters page. (Please note the poster does not actually have the watermark 'vintageskiworld.com' on it)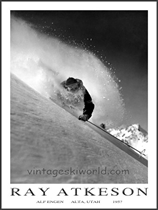 Atkeson Ski Poster of Alf Engen Skiing Powder in Alta, Utah
This stunning poster by famed photographer Ray Atkeson celebrates pioneer powder skier Alf Engen, skiing his beloved powder at Alta, Utah. Of course many know of his connection to Alta and the Alta Ski School that he ran for many years.
The Utah History Encyclopedia reported, "Alf Engen began his impressive professional career by capturing the National Jumping Champion title eight times between the years of 1931 and 1946. Furthermore, at the age of 37 and on borrowed skis, he won the 1946 National Jumping title by leaping 259 feet. He was also the National Classic Champion (cross country and jumping combined) twice during these years in 1939 and 1941. After learning how to downhill ski at the age of 30, Engen became national downhill and slalom champion in 1947." Size 18 x 24 inches.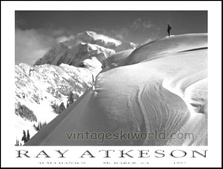 Alma Hansen and Mt. Baker, Ray Atkeson Vintage Ski Poster
This powerful image from 1957 was captured by photographer Ray Atkeson.  It shows Alma Hansen standing on a snow covered bluff looking over to Mt. Baker, WA. She probably hiked up with seal skins to this gorgeous spot and is ready for a great run. Though not obvious from this small image, on the bottom of the poster, is written ALMA HANSEN MT. BAKER, WA  1957. Size 18 x 24 inches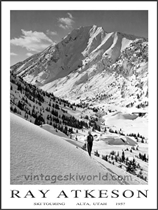 Alta and Mount Superior, Ray Atkeson Ski Poster
This stunning poster by famed photographer Ray Atkeson shows Alta and Mount Superior in Utah. In this image it shows 'Ski Touring' on the bottom left side of the poster, however, this more recent edition of the poster shows 'Mt. Superior' written instead. Size 18 x 24 inches.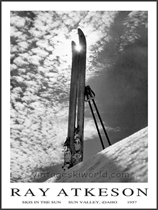 Skis Sun, Ray Atkeson Vintage Ski Poster
Classic poster by photographer Ray Atkeson with the silhouette of wooden skis and ski poles in the sun with interesting clouds. Size 18 x 24 inches.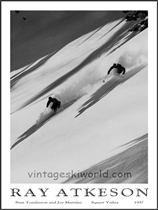 Atkeson Ski Poster of Squaw Valley CA
This Squaw Valley, CA poster by famed photographer Ray Atkeson, features two great Squaw Valley skiers named Stan Tomlinson and Joe Marillac.  Both Stan & Joe have reputations of being awesome off and on the slopes. Both have reams of information written about them and their contributions to skiing through the decades.  For example, Joe received the French Congressional Medal of Honor from General Charles deGaulle for his merits during WWII.
The affable Stan Tomlinson was called 'the Maestro' and taught skiing in Squaw Valley for 50 years. Joe Marillac was the Director of the Squaw Valley Ski School for 17 years.  Additionally awesome, Joe Marillac is responsible for getting the 1960 Olympics to Squaw Valley. Size 18 x 24 inches.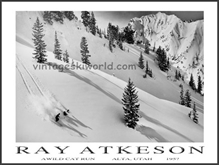 Wildcat Alta, Ray Atkeson Vintage Ski Poster
Beautiful poster by Ray Atkeson celebrates Wildcat ski run at Alta, Utah in 1957. Naturally the image highlights Utah's claim that it has "The Greatest Snow on Earth!" or others boast that Alta has "The Greatest Powder Skiing on Earth!" Size 18 x 24 inches.
What's your favorite Ray Atkeson poster?  Let us know!