Text & Photos by: Madeleine Osberger, Editor, Roaring Fork Weekly Journal
The old wooden skis with the pointy tips that Richard Allen says are circa 19th century and discovered on Aspen Mountain's backside, may not be the most interesting piece of memorabilia in Vintage Ski World's collection, which is housed in a Carbondale warehouse and a freestanding store in downtown Frisco.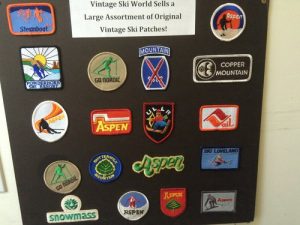 The contenders for "most interesting" reflect one's personal choice, of course, but during a recent visit to Vintage Ski World's digs at 1676 County Road 100, unit N-2, in Carbondale, there were welcome surprises around every corner, in the shelves that reach high in the building and on the floors where, literally every nook and cranny overflowed with collectables.
From Sept. 20–22, everything is on sale during a three-day celebration of ski equipment and memorabilia that includes live music by Wade Waters, refreshments from The Back Door Catering and special presentations by Dave Durrance and Robert Chamberlain.
There, one can find the always popular and sexy Lange boots advertisements that were steeped in 1970s culture among its poster reproductions. They are mixed in with Allen's breathtaking collection of ski history that's manifested in original paintings and prints, skis and boots, and an early snowboard called a "Snurfer."
Allen, the consummate collector, has amassed an impressive amount of skiing's physical history; he bought the bulk of Steve Knowlton's array of memorabilia from the defunct Cafe Kandahar, including 10th Mountain Division soldiers uniforms. He also acquired the old Aspen Mountain boat tow, that was subsequently donated to the Aspen Historical Society.
"He's been collecting forever," said Mary Roland, Allen's business partner in the venture, who will soon be stepping away to pursue her own passion, which is to-be-determined.
Both Allen and Roland are Minnesota natives who relocated to Colorado, though Allen's local roots hearken back to a Snowmass Village home his parents bought in the 1970s. It was there that the family also hosted renowned artist Cecile Johnson, whose ski original paintings and prints are included in this weekend's sale.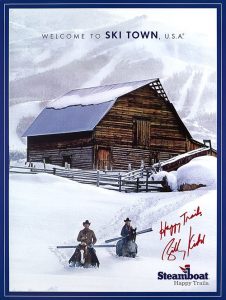 Vintage Ski World operated in a retail space on the Cooper Avenue mall in Aspen from 2004-06 until the rent proved prohibitive.
"It was the heartfelt connection with these old time Aspenites, they would just start crying," Allen said. That endeared him to the retail side.
"Their kids would be like, 'Grandpa, is that your skis?'" he recalled.
Similarly, Allen also remembered one year during the X Games that a group of kids and teens wearing hoodies were captivated by an early Burton snowboard video playing in the store.
"All of a sudden, the kids started laughing. Dad, is that you?" they asked of a customer who was revealed to be snowboard pioneer Jake Burton.
While the two winter seasons Vintage Ski World hung its shingle in Aspen were almost enough to sustain the $15,000 per month rent, "summer just killed us," Allen said.
Kick starting the business
Allen credits Lou Dawson, an author and backcountry enthusiast, with providing the nudge to start selling reproduced vintage posters. Offering an initial $50,000 in funding for the project was George Stranahan, he said, and paying back Stranahan's loan came after just a few years due to the popularity of the products.
For awhile, Vintage Ski World was also a constant presence at local farmers' markets and the Carbondale Mountain Fair.