We have really enjoyed doing business with all of you over the last 10 years!
Vintage Ski World started with seven posters in the summer of 2002.  
Today our website offers over 1400 ski related products. We have truly enjoyed finding and making available to you this unique Collection Celebrating the History of Skiing!
So we thought it was time to tell you about our first Seven Posters.
Click on any of these Posters to go to their page where you will find more information about them and also be able to order it.
The 'vintageskiworld.com' watermark is not on the actual product.
Aspen Highlands Fred Iselin Art Deco Ski Poster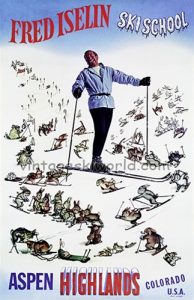 Fred was one of the early instructors on Aspen Mt. in the 1940's and later co-directed the Aspen Ski School in the 50's with Friedl Pfeifer.
Ski Aspen Leaf Vintage Art Deco Ski Poster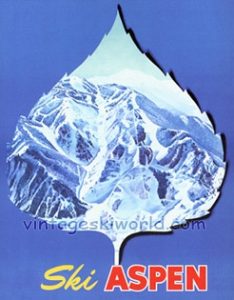 This 1960's poster advertises Aspen Ski area. The town of Aspen got its name in the late 1800's, replacing its original name of Ute City, due to the gorgeous Aspen trees that cover the lower regions of the Elk Mountains.
Alta Vintage Art Deco Poster 1941 Dick Durrance Ski School
Our Alta poster is a classic. In the later 1930s, a group of Salt Lake City skiers and businessmen began to look at Alta as a site for a ski resort. George Watson donated 1800 acres of land to the US forest service so Alta could be built. The first chairlift opened in 1938, with 2630 vertical feet. The lift cost .15 cents per ride.
Sun Valley Olympian Vintage Art Deco Poster
This Sun Valley poster is from 1948. The artist, Shepler was honoring Gretchen Fraser, winner of America's first Gold Medal in Olympic Alpine skiing!
Berner Oberland Vintage Art Deco Ski Poster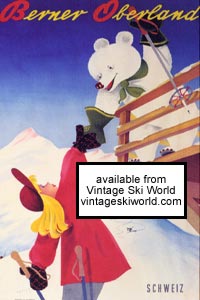 Everyone loves the Berner Oberland area of Switzerland. It is a beautiful mountainous region above and south of the city Bern, in the State of Bern. The area is famous for year around mountain sports, like hiking, mountain climbing, and skiing.
Northland Skis Ad Vintage Art Deco Poster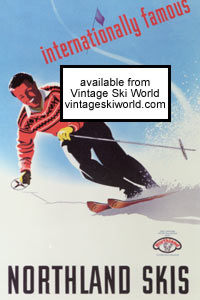 The skier on the poster is Luggi Foeger, who taught skiing for Hannes Schneider at St. Anton in Austria. Foeger came to the U.S., as part of a wave of European ski instructors, in the 1930's. He later joined the 10th Mountain Division. He was a ski racer, ski area developer, and movie producer.
Which Poster is your favorite?