Official Olympic Posters From Past Winter Olympic Games
The Summer Olympics in London began on Friday, July 27, 2012, and end on Sunday, August 12, 2012.  As a global audience, we watch, while hundreds of athletes awe us with their physical abilities and stamina that are way beyond our own.  The Opening and Closing Ceremonies also invoke awe, as we watch the events that teams of highly talented professionals have put together for our enjoyment and amazement.
We want to thank London as the 2012 Host City for all they have done for seven years to prepare for this enormous event and make it available to the world.
Additionally in honor of these 2012 Summer Olympics, we thought it was a great time to see what Cities in the United States hosted previous Summer and Winter Olympics.  In total eight prior Olympic Games have been held in the United States.  As Vintage Ski World we know a lot more about the Winter Olympics than the Summer Olympics, but here are some tributes to the USA Host Cities.
1904 St. Louis, Louisiana Purchase (Missouri) Summer Games:
July 1, 1904, to November 23, 1904.  Officially, the Games lasted for 4 & 1/2 months! 
The first time the Games were held in the US in 1904, it was not an official Summer Olympics, but was officially known as the Games of the III Olympiad.  Many called it the Louisiana Purchase Exposition, informally known as the St. Louis World's Fair,
It was an International Multi-sport event that combined the Olympic Games with a World's Fair of all types of shows and chaos.  This made the actual Games of athletes competing against each other more like irrelevant side shows.  The Games were so poorly run that, as a result, the International Olympic Committee almost came to an end.  Gratefully the errors of those Games were corrected to allow the Olympics to continue!
Participants: 651 athletes competed – 645 men and 6 women representing 12 countries.
 
1932 Lake Placid, NY – First Winter Olympics Held in the US
February 4 – 13, 1932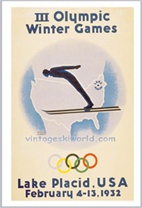 The 1932 Winter Olympics, officially known as the III Olympic Winter Games, and held in the little town of Lake Placid.  The Lake Placid Club which was founded in 1895 was originally a summer resort, but in 1904 they decided to open the club for winter activities and it became famous for its winter sports. They created the first Bobsled run in the US, a 60-meter ski jump, and added an indoor skating arena, which was a Winter Olympic first!
The worldwide depression hindered plans for the Lake Placid Winter Olympics, and also decreased attendance.  Several nations withdrew and many others sent very small teams, because of the cost of travel to the United States.  Lake Placid had almost no snowfall for the two months prior to the Games, and an unusual heat wave hit the area, with temperatures in January even rising above 50° F. (10° C.). Fortunately two winter storms just before the Olympics alleviated the problem.
Participants: 252 (231 men and 21 women) from 17 countries competed.
 
1932 Los Angeles, CA Summer Olympic Games:
July 30 to August 14, 1932
Due to the fact that the world was mired in the Great Depression, it made the expense of traveling to California seem nearly impossible. For a while it seemed as if no one was going to attend the 1932 Olympic Games. Six months before the Games were to begin, not a single country had responded to the official invitations. Then they started to trickle in.
Additionally no one had the money to buy the spectator tickets and it seemed that the Memorial Coliseum, which had been expanded to 105,000 seats for the occasion, would be relatively empty. Then, a few Hollywood stars (including Douglas Fairbanks, Charlie Chaplin, Marlene Dietrich, and Mary Pickford) offered to entertain the crowd and ticket sales picked up.
Los Angeles debuted three new Olympic traditions: 1) the Photo Finish, 2) the Victory Platform and 3) the very first Olympic Village for the Games. The Olympic Village consisted of 550 two-bedroom portable bungalows for the male athletes, a hospital, post office, library, and a large number of eating establishments to feed the athletes. The female athletes were housed in a luxury hotel downtown.
Participants: Approximately 1,300 athletes participated, representing 37 countries.
1960 Squaw Valley, CA Winter Olympic Games:
February 18 to 28, 1960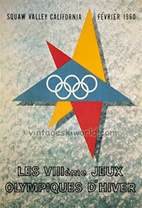 It was the first time in 28 years that the Olympic Games had been held in North America.  Opening and Closing Ceremonies were orchestrated by none other than Walt Disney, and involved 5,000 participants, 1285 instruments and 2,645 voices from 52 California and Nevada high school bands. A throng of 1,000 competitors and 20,000 spectators stood hushed as the Olympic Torch completed a 9,000 mile odyssey from Europe and was placed in front of the Tower of Nations.  The VIII Olympic Winter Games at Squaw Valley "Opened" with a kaleidoscope of fireworks and colorful balloons and all forms of pageantry.
At that time the 1960 Winter Games were the largest ever held, with 34 nations competing in 15 alpine and ski jumping events, 8 speed skiing contests, 3 figure skating competitions and 28 hockey matches. Making its Olympic debut was women's speed skiing and the men's biathlon, a combination of Nordic skiing and rifle marksmanship.
The Squaw Games were highlighted by many other Winter Olympic 'firsts':
1) The speed skating, figure skating and ice hockey events were held on artificial ice for the first time in Olympic history. A refrigeration plant capable of heating 4,800 homes had to be built to generate and maintain the ice.
2) New timing equipment provided by Longines was installed that used a Quartz clock to measure to the hundredth of a second.
3) "IBM" provided a computer that was capable of tabulating results and printing them in English and French.
4) They were the first Winter Games to be nationally televised by CBS.
5) Although the 1932 Los Angeles Games had the first Olympic Village, this was the first time in Winter Olympic history that the athletes were housed in their own Olympic Village.
Participants:  Some records show 1,000 competitors and others say 665 athletes competed representing Thirty Nations.
We also want to honor the remaining Summer and Winter Olympics USA Host Cities of:
1980 Lake Placid, NY
1984 Los Angeles, CA
1996 Atlanta, GE
2002 Salt Lake City, UT