Text by: Charles J. Sanders, International Skiing History Association
Passing Date: Sunday, December 22, 2019
Jacques Parker, the internationally celebrated ski illustrator and a veteran of the US 10th Mountain Division, who scaled Italy's Riva Ridge to help capture enemy positions in one of America's most daring WWII battle engagements, died on December 22, 2019 at the age of 98. He had recently completed the transfer of a substantial trove of his original ski artwork to the University of Denver, where it will reside as part of the institution's permanent art collection.
Born in Monte Carlo, Monaco, Parker grew up skiing both in Europe and the eastern United States in the 1930s prior to volunteering to serve with the U.S. mountain troops. As a newly minted, 25-year-old sergeant, he helped to lead his machine gun squad in prayers conducted in English, Latin and Hebrew at the base of Riva Ridge prior to ascending the steep, frozen slope in an improbable but successful nighttime and dawn assault on Nazi positions. That victory on the morning of February 19, 1945 led directly to a string of engagements that enabled US troops to liberate the Po Valley just a few weeks later. Parker suffered grievous combat wounds during the campaign, including a grenade concussion injury to his inner ear that hindered his ability to engage in high-level ski racing after the war.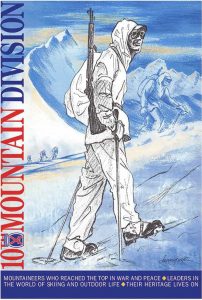 Parker instead made a name for himself as a graphic artist specializing in ski subjects, expanding on his pencil drawings made in mountain combat during the war. "Ski Illustrated, the forerunner of SKI Magazine, was publishing in New York when I got back from overseas," he recalled. "And I noticed on their masthead that they had no art director." Submitting a formal sketch, he suggested to the editors how to update the appearance of the publication through a "certain look, design, typography and illustration." The publisher Bill Eldred loved it, and Parker became the magazine's first, de facto art director. "You could do stuff like that back then. I was a kid with little to no experience, but I had the confidence we all gained the hard way."
Among the most widely known artistic accomplishments of his long career was the use of his iconic painting "Ski Tracks Through a Knothole" as the 60th Anniversary Cover of SKI Magazine. His more recent "Ski Trooper" poster remains a valuable fundraising tool for organizations, including the 10th Mountain Division Foundation.