Vintage Ski World is having a sale on DVD Box Sets! We're offering $10- $20 off the regular prices. If you're looking for films from Otto Lang, Greg Stump, Glenn Plake, Dick Barrymore and Warren Miller, we've got them!
For our complete list of sale DVDs visit this link.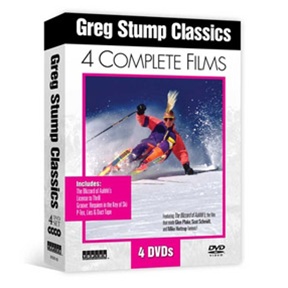 Greg Stump's Classic Collection of Ski Films in a DVD Box Set
Available on DVD for the first time, this Classic Collector's Edition box set includes the four most critically acclaimed ski films from film maker Greg Stump. Blizzard of Ahhh's (1988), License to Thrill (1989), Groove: Requiem in the Key of Ski (1991), and P-Tex, Lies, and Duct Tape (1994).
See some of the most influential ski films ever made by the man who introduced extreme skiing to the world in this 4-DVD collection, Greg Stump Classics. Stump's The Blizzard of Aahhh's masterpiece was what put extreme skiing on the map. Each film features jaw-dropping footage of extreme skiing, interesting characters and entertaining stories set to four unique soundtracks in the way only Greg Stump can do it.
The Blizzard of Ahhh's is the film that made Scot Schmidt, Glen Plake, and Mike Hattrup famous. These 4 films also showcase the skiing talent of Geoff Stump, Kevin Andrews, Darren Johnson, Kim Reichhelm, Dan Donnelly and others to the backdrop of awesome powder and steeps. Plus the DVDs have truly fantastic soundtracks featuring the music of acclaimed Seal, 808 State, The Beastie Boys, British rock producer Trevor Horn, and many more. Greg's unique brand of humor is added fun, that has made his films so popular for so long… just push play and crank it up!
Total Run Time: Approx. 405 minutes
Relive the Golden Age of Skiing – from 1940s Hollywood coming to Sun Valley, Idaho for lessons, to the birth of hot-dogging in the 1970s. This is one of the best ski film collections you can buy — all on DVD! Features the films of: John Jay, Otto Lang, and Dick Barrymore. Run time: Approximately 5 hours
Otto Lang Films: Otto Lang was an entrepreneur, a ski instructor to the stars and an Academy Award®-nominated documentarian. His DVD The Basic Principles of Skiing (1941) was instrumental in the training regimen of the United States mountain troops. His film Ski Flight (1939) premiered at Radio City Music Hall, and Skifully Yours (1939) is Lang's retrospective on the star-studded Sun Valley scene.
John Jay Films: John Jay was a Rhodes Scholar and respected ski filmmaker, and is considered the grand-daddy of the modern ski-film road show. His film Winter Magic Around the World (1946-'70) is part travelogue and part thrilling ski spectacle with a narrative tone as light as a dusting of fresh powder, and The Best of John Jay (1946-'70) is a ski safari of yesteryear's most daring action.
Dick Barrymore Films: Dick Barrymore was a Los Angeles fireman before he earned his global reputation as one of the greatest ski filmmakers of all time. His film, The Performers (1971) ushered in the freestyle revolution and The Last of the Ski Bums (1967) follows three footloose Americans living it up on the slopes in Europe.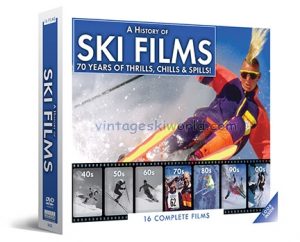 A History of Ski Films DVD Box Set
This great DVD Box Set – A History of Ski Films – 70 Years of Thrills, Chills & Spills is a fantastic addition to any collection of ski films through the decades! See the most extreme and the most important ski films ever made by the sport's best filmmakers, including Greg Stump, Dick Barrymore, Micah Black and Otto Lang. See the film that put extreme skiing on the map, climb Everest with the Marolt brothers…and then ski down, relive the ski scene in the 1940's on the star-studded slopes in Sun Valley, and reach out and touch the trademark Mohawk of extreme skiing star Glen Plake. Do all of this in 16 blood-pumping films showing ski and snowboarding trips around the globe, from Alaska to Turkey!
Product Features: Four must-have, classic Greg Stump films
* Six hours of amazing footage, crazy stories and wild skiing
* Films include The Blizzard of Aahhh's, Groove: Requiem in the Key of Ski, License to Thrill and P-Tex, Lies & Duct Tape
* Featuring skiers Glen Plake, Scot Schmidt and Mike Hattrup
* Filmed at extreme ski locations around the world, from Val D'Isère, Squaw Valley and Blackcomb
* Four unique soundtracks that include music by The Beastie Boys, Seal, Dinosaur Jr. & more
* Bonus! Greg Stump and Friends Reunion featuring Olympic gold medalist Jonny Moseley
Steep, Deep, & Launched DVD Box Set
Get the tightest in "jib" style and culture with air, cliffs, rails, urban, pipe, and a ton more in this 4-DVD set.
Visionaries and favorites like Jeremy Jones, Micah Black, and Kent Kreitler fuse jib and big mountain styles in The Prophecy DVD.
Next witness skiing's new generation's 'happy days' in the DVD Salad Days.
Then Candide Thovex throws d-spin 720s over a 120-foot gap, plus Les Trois Philips breaks ground in the new millennium with never-before-seen tricks and mad footage from big air comps and terrain parks around the world – which push the sport into new ground in the DVD Further.
Catch tricks you've never seen before in the DVD Continuum. This all-time favorite is all about extreme snow action. Footage shot on location in the packs of Idaho, Wyoming, Alaska, and New Zealand won two awards at the International Film Festival and was voted Best Movie of the Year by France's acclaimed SKIEUR magazine.
The best sport ski photographers bring you the best new skiers in DVD Maximum: Steep, Deep & Launched.